Managing Director & Founder - Pete started emobix in January 2010 with Joseph to develop technology for the mobile markets. The goal was to develop cool mobile products which you really enjoy using - an emotive mobile experience. Pete has been fortunate enough to work on numerous leading-edge software and consumer device technologies - the exciting stuff - for over 25 years in various roles from Software Engineer to Chief Architect. This has given the opportunity for a lot of world travel and technical collaborations with many of the top consumer electronics companies, bringing an invaluable understanding of working with different cultures and markets.
Pete says:
After university I moved from my native Glasgow to work for a small company called Office Workstations in Edinburgh. The photo here at a company away day shows just what working at OWL did to me over a decade. The company was developing a product called 'Guide' - a hypertext system for PCs and Apple Macintosh. Guide was the world's first commercial hypertext system - basically a web authoring tool - and spawned a number of derivative variants including a distributed document management system and automated SGML conversion and linking. I was lucky enough to be working in the core Guide development team, and much of the focus was on adding multimedia support, video overlay and scripting. Time for some popular folklore; allegedly Tim Berners Lee asked if OWL would give Guide Reader (the viewer product) away for free as part of their project. OWL declined as it was pretty successful with a lot of Blue Chip customers at the time so CERN developed their own similar system... OWL also developed a textual markup language called HML (Hypertext Markup Language) - ever wondered why HTML has a 'T' in it? In reality we should all be thanking Ted Nelson who was the real inventor of 'the web' as a concept decades before any of us got started on the real world implementations. Check out the Xanadu project if you need to be convinced!
As with many very successful small companies of the time OWL became spectacularly unsuccessful after a meteoric rise in headcount through its 'growth' phase and was sold to Matsushita as a research lab. I worked on some pretty cool and interesting R&D projects, including some flexible layout research, a full multimedia authoring and publishing system similar to Macromedia Flash with a console-based player. I also led a team developing the world's first DVD authoring system as part of the development and prototyping of DVD (as Matsushita were part of the consortium developing the technology). The authoring system was used by Universal Studios for DVD production in conjunction with Panasonic hardware encoders. I moved on to work on Digital TV related projects, and set up a team to develop an MHEG player (the interactive stuff you see on your digital TVs) and embedded OS work for Panasonic's STB hardware. Lots of cool kit to play with!
I moved on to work at Cadence Design nominally to work on DigtialTV projects but ended up working on their Bluetooth IP for a year then moved to a small but intriguing company called Picsel in Glasgow. Picsel were doing some cool document and content technology for mobile devices. I worked in various roles from Team Lead to Chief Architect through a period where the company grew from around 20 people to over 300 at half a dozen locations across the globe including Japan and South Korea. My roles covered all aspects of technology roadmap direction and implementation and the remit also included recruitment, engineering process development, line management, architecture and customer interfacing, with frequent technical sales and engineering trips to customers across the world. Major projects during this time included various projects on embedded content rendering, browsers, subscription-based digital magazine system, UI SDKs and a number of other things.
Picsel, like pop, ate itself (and has done a number of times since after a few impressive phoenixes) so I moved on to start up emobix with Joseph after over 10 years.
The rest is history.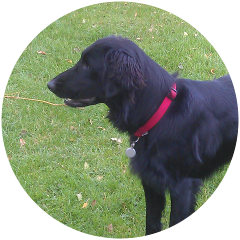 Outside of work I like to spend time with my friends and family, play with cars, avoid The List Of Stuff To Do, listen to my tunes, watch movies (although we can never agree what to watch...) and go visit places I haven't been before. I also like food. Good food. And good beer. And good company. I'm also secretly hatching my plan to become a carpenter/plumber, although my plan seems to be evolving into a much more hi-tech version of carpentry than I possibly need. Watch this space.
I'm surprised you've got this far, taking the time to read this ramble. Here's a picture of a dog, by way of thanks.