The Brief: Stop unwanted spam and marketing calls, automated messages and silent calls.
The Solution: emobix created the solution - CallMaster - made for you.
What we did: We designed and built the hardware and mobile apps for the product in house.
Want to guarantee a peaceful nights' sleep, ensuring only the most important calls can get through? Want to see a record of your most recent callers, how often people called, and get instant notification of who's calling on your PC, Mac or mobile device? Check out CallMaster from emobix.
With quick, easy installation and setup, and easy management through our apps for PC, Mac, and mobile devices, CallMaster can help you take full control of your landline telephone.
CallMaster is a small standalone device to connect to the phoneline and recognise the caller ID data presented before the phone rings. The device broadcasts the Caller ID data on your local ethernet network so that PC/Mac and mobile clients can display it on screen via alerts. You can also stores names to identify regular callers, define 'quiet times' and flag unwanted calls, so that the device can refuse them before the phone even rings - no more nuisance calls!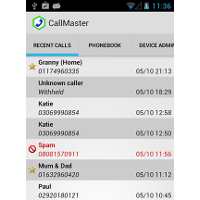 Callmaster provides all the information you want to know about who phoned you and when in easy, swipeable lists, along with an easy configuration interface to set up quiet times and block nuisance callers using android and Apple applications for your phone or tablet. Applications for Mac and PC are available too providing the same functionality in a familiar UI.
Whether you are a shift-worker needing some quiet time when you can only be disturbed by nominated callers, protecting elderly relatives from the stress of nuisance calls or simply looking to have better visibility and control of your callers, CallMaster is for you.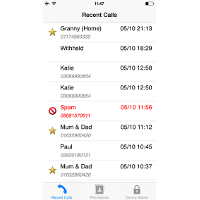 The management applications for CallMaster let you review recent calls and automatically look up any unknown numbers via popular sites such as Google and WhoCallsMe simply by clicking on a call in the list. You can easily mark specific numbers as spam and have them blocked in future so that you are not bothered by them. CallMaster still records the calls so that you can keep track of how often and when they call you in case you need evidence for a formal complaint.
CallMaster puts you in control by notifying you through the apps when a call comes in; the number and name (if known) will be displayed allowing you to decide whether to answer the call. This can be especially useful to home-workers using a PC or Mac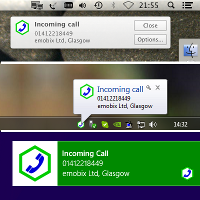 CallMaster puts you in control by notifying you through the apps when a call comes in; the number and name (if known) will be displayed allowing you to decide whether to answer the call. This can be especially useful to home-workers using a PC or Mac and is provided in an inobtrusive notification bubble as shown here. You can simply click on the notification bubble to look up the number before deciding whether to answer the call.
Using the advanced and simple interfaces of PC, Mac or mobile device to review and manage calls makes it very easy to use, unlike the slow, cumbersome and clumsy interfaces on many devices on the market today. Let's face it - many consumer devices succeed or fail due to how easy they are to use. CallMaster makes call management trivial for even the most inexperienced users with its simple but powerful UI.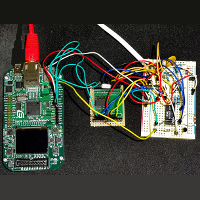 We started prototyping the CallMaster concept using various processor and component options, eventually settling on a suitable combination which allowed us to identify incoming calls and extracting the callerID information.
The prototype boards let us evaluate the core functionality of the product and verify live timings to give us a level of confidence in the viability of the product. Once that was done, we considered more of the issues surrounding the end product, such as how it would be used in different environments, what form factor would be suitable and also the capability split between the hardware and software (ie what features go where)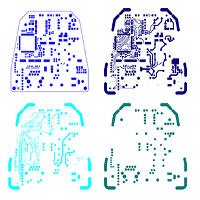 With a good idea of the physical form factor and hardware capabilities we set about the task of detailed component selection and drawing up schematics for the board design. We opted to include capability for a built-in ADSL filter circuit to cover all the bases for consumer deployment, ensuring a really easy installation procedure.
An approximate component placement model was put together to get an idea of the board area required along with positioning of external ports and indicators to allow us to progress the case design prototyping. Based on this model and some evaluation of EM considerations the board layout was completed and a manufacturing pack produced for our first set of boards.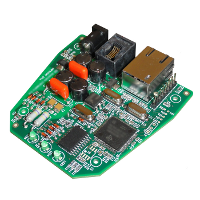 Once we got the first-spin set of populated boards we had the opportunity to do bring-up and test the real thing. After a couple of minor issues we had a set of working boards - not bad going for a first spin!
Time for something to run on the boards! We got the basic firmware in place for board initialisation, network configuration, databases and main application along with a simple windows application to test the full system. With a fully working setup we were quite happy about the operational behaviour of the system and started evaluation on various telecom operators' networks in parallel with activity on the UI design and case design for the product.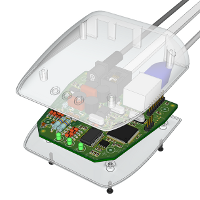 We started out with a basic idea of the size we'd ideally like the device to be - under an inch high and a footprint that would fit in the palm of your hand. Various options for case materials and styles were considered and in the end we decided to go for a 2 section injection moulded plastic case.
Once the components had been selected and provisional layout was done we produced a CAD model of the board and components to give ourselves a realistic model of the positioning and sizing of the components. This model allowed us to ensure that the case dimensions and profile were an accurate fit for the boards and that the connector and indicator positions matched the case cut-outs.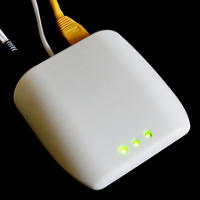 Based on our choice to have the case parts injection moulded, we decided to do some 3D-prints of the parts for our small prototype run (as it is relatively costly for mould tooling and we wanted to verify the design prior to that). We had a number of 3D prints done in white polymer to check board fit with a surprisingly good result. The two case sections were a better fit than we'd expected given the tolerances of the printing process and the slightly unpredictable effects of the plastics cooling (although our case design did actually try to take that into account, using best practices for densities and thicknesses throughout).
You can see the result in this last image - no logo or legends on the first batch, but quite a nice clean appearance. Result!